OUDOLFIAN INSPIRATION

I just returned from the UK, where my partner and I spent the past couple of weeks visiting Piet Oudolf's gardens.  Unexpectedly, I was able to squeeze in a side trip to Hummelo where I enjoyed an afternoon visit with Piet and his wife Anja.   

For your viewing pleasure, I've shared my Flickr photo collection- UK, Netherlands garden visits FA' 12.  The collection includes over 1,500 photos from: Oudolf's private garden, Scampston Hall, Millennium Garden at Pensthorpe Nature Reserve, Trentham Estate (including work by Tom Stuart-Smith), Bury Court (including work by Christopher Bradley-Hole), Potters Fields Park, RHS Gardens Wisley (including work by Tom Stuart-Smith, Nigel Dunnett and James Hitchmough). The collection also includes a set of photos from Sussex Prairies, designed by Paul & Pauline McBride in the New Wave Planting Style.

Over the years, I've visited several of Piet's gardens.  While my photos illustrate the complexity of his planting schemes and speak to his artistic genius, I fear they do not capture the true magic of his work- his ability to create an experience within a space that evokes emotion.  For this reason alone, I encourage a personal visit!  None-the-less, I hope you are inspired by the photos. 
Oudolf Nursery & Garden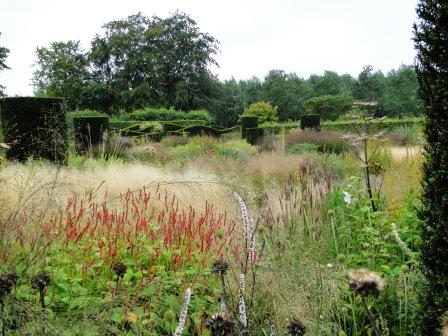 I'm finalizing plans for a trip to the UK in late August. The purpose of which, is to visit several of Piet Oudolf's public commissions (Trentham, Wisley, Scampston Hall and Pensthorpe) when they are in peak bloom.

In light of the upcoming trip, I thought it would be appropriate to share an…